You receive a beautiful bunch of flowers, sadly they don't last forever. So, you might wonder if you can save some flowers somehow. In this instance, drying flowers is one of the options we can recommend you to try. So, what flowers can we dry and they still look good even after dried?
Generally, native flowers are good materials to dry. You can dry almost any native flowers –Banksia, Protea, Gum nuts, Coccinea, Pincushion, Leucadendron, Everlasting Daisy, Kangaroo paw, Eucalyptus leaves. These are just a few common ones but there are a lot more native flowers you can dry.
Some native flowers stay almost the same as natural stem even after dried. Some natives will change its colour to a dark brown tone. To dry native flowers, you don't have to do much. Just leave it without water then they will dry naturally. Make sure the stems are not wet; otherwise mould would develop on the stems. If flowers are falling apart, they are not suitable for the dried flowers. Waratah is an example of a flower that can't be dried. It just simply goes black and falls apart.
Flowers such as everlasting daisy and joey flower are types of flowers that have soft stems and therefore not strong enough to hold their flower heads. After a while flower heads will drop. To solve this problem, we recommend you to dry them upside down.
What other flowers can we dry other than native flowers?
Some of the common ones are roses, baby's breath, misty, statice, hydrangea, and lavender.
To protect the flower head and dry better, you can dry them upside down. Make sure to place the flowers in a dark area and avoid direct sunlight.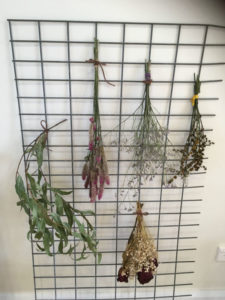 Once they are dried, you can arrange them as you like. If you are intending to dry them, don't wait until they are dead. Dead flowers would be looking dead even after dried.
We just want to introduce you the easiest way to dry flowers, but there are so many other ways you can dry or preserve flowers.
Sydney CBD Florist